Rita Maier – President
Rita lives in Bay City with Wayne, her husband of 49 years. Rita is lucky to have her entire family, four adult children and twelve grandchildren, and two great-grandchildren living in the Bay City/Midland area.
Rita became involved with the Toni and Trish House after attending a Circle of Caring fundraiser in 2010. Shortly after becoming involved, Rita's own brother had to enter hospice care in FL, which reinforced her conviction of the continued need for compassionate care for the dying. Rita has been a volunteer caregiver at the house since her brother died in 2011.
Mary Shaughnessy – Vice President
Mary retired in 2013 as an RN from Urgent Care. She previously worked in Public Health for 16 years. Mary has been a volunteer at the Toni & Trish House since April, 2008. She is currently in her 3rd year of the Saginaw Diocese Lay Ministry program.  She is active at Blessed Sacrament Church in Midland and involved in PEO, a Philanthropic Educational Organization, which promotes women attaining higher education.
Mary and her husband Kevin live in Midland and have been married for 37 years. They have four grown children and nine beautiful grandchildren.
Matthew Mieske – Treasurer
Matt had been married for 25 years, has two children and lives in Midland. Matt became involved with the Toni and Trish House in 2013 when his mother stayed there for about three months prior to her passing.
Matt says his mother was treated with care and compassion at Toni and Trish and her family is very appreciative of all the services that were available for her. Matt is a retired Major League baseball player, and is currently a Certified Financial Planner in Midland.
Michele Vennix – Secretary
Michele is married to Paul Vennix and has two adult sons. Michele currently works at Dow Chemical where she has been employed for 37 years. She has been involved with the Toni & Trish House for the past five years volunteering at dinners, the Circle of Caring event and as a member of the Board of Directors.
Michele knew Toni Waskevich and, through Becky Chronowski, she was asked if she would be interested in helping at the Toni & Trish House. Michele says she loves her involvement with the Toni and Trish House because "Toni was a wonderful person and this is such a tribute to how she would care for people."
Sally Bober Czabala
Sally has worked and volunteered in the Auburn community for over 30 years. When she was employed at St. Gabriel church, she was aware of the possibility that the rectory could be used as a home for the Toni & Trish House.
She contacted John McKelvey in 2007 and six months later the Diocese of Saginaw agreed to lease the rectory to the Toni & Trish House. Sally was one of the first volunteers at the house. Sally has been married to Frank for 47 years and has two children and seven grandchildren.
Penny Robinson – Volunteer
Penny started as a volunteer at the Toni & Trish House in January 2014, and became a member of the Board of Directors in January 2015 as an Events Coordinator. Penny has lived in Midland all her life and has worked at The Dow Chemical Company for over 36 years.
Penny and her husband Russell have been married for 32 years. Penny and Russell have two sons and one grandson, Brayden. Penny and Russell are huge Great Lakes Loons supporters and have hosted players and staff members for the last eleven years. Penny is Treasurer of the Loons Booster Club as well as a Loons Host Family Coordinator.
Rev. Joseph Atchinson
Reverend Joseph Atchinson has been in the ministry for 25 years. He is the founding pastor of the Harvest Baptist Church in Bay City. He is also the Spiritual Care Coordinator for McLaren Hospice. Joe has been a hospice chaplain for over 15 years with several agencies.
Joe has been married to his high school sweetheart Vickie for 38 years. They have three grown children and seven  grandchildren  Joe enjoys gospel music and riding his motorcycle.
Lynn Cameron
Lynn grew up in this area, but left the state to go to college and spent 25 years in Kentucky before moving back to Bay City in 2013. He has a BA in Sociology from DePauw University in Greencastle IN, a Master's degree in Social Work from University of Kentucky, and a Master's in Public Administration from Northern Kentucky University.  He worked for 13 years with Big Brothers/ Big Sisters of Greater Cincinnati, 8 years with Kentucky Dept. of Youth Services, and 3 years a youth minister. When he moved back to Bay City in 2013, Lynn accepted a position with McLaren Hospice as a social worker. Lynn's main interests are travel and volunteering. He has visited 55 countries and has volunteered as a mentor for over 25 years.
Lynn's connection with Toni & Trish started with his hospice work. He has referred dozens of patients to Toni & Trish House. He appreciates having access to an amazing resource that his patients and their families can utilize during such a stressful time.
John Washkevitch
johnwaskevich@fishercompanies.net
John is youngest son of Toni, his mother. He lives in Midland working as a Project Manager for Fisher Contracting Company.  John enjoys spending time on his family farm with his wife Melisa, son Henry, and daughter Ruth.
John has enjoyed being active in planning and the construction of numerous projects at the Toni and Trish House.
Joan Varner
Joan is the niece and Godchild of "Trish". She's helped with many Toni and Trish fundraisers, including the first one held in Midland in 2007. She continues to help with Come and See open houses and receptions.
Joan and a group of friends provide an Appreciation Dinner four times per year to thank the volunteers for all they do. Each spring, Joan is in charge of the reception following the annual Men of Music Concert to benefit the Toni & Trish House.
Originally from Midland, Joan, who recently retired from working at Breckenridge Elementary with Title 1, now lives in Breckenridge with her husband Greg. She serves on The Toni and Trish House Board of Directors, The Breckenridge Education Foundation Board and volunteers with many local fundraisers in her community and at church. Joan's mom, Fay English, was a guest at the Toni and Trish House in 2009. Joan's dad's wife, Gerry English, was also a guest there in 2014. Joan recently took the training to become a volunteer caregiver at The Toni and Trish House.
JoEllen Strieter – Interim Director
JoEllen is the Events Coordinator/Assistant Director at the Toni and Trish House.
JoEllen has an array of experience in marketing and working with the public through her varied past employment history. She started at the Toni & Trish House in July, 2015.
Along with her work here, JoEllen was also the caregiver of her elderly mother for five years. JoEllen has been married to George for 38 years, has three adult children and eight grandchildren. She enjoys doing outdoor activities such as biking, hiking, camping, and kayaking.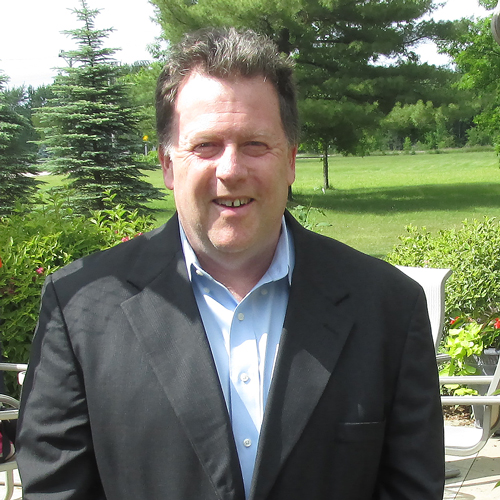 John Stewart McKelvey
John, son of Trish (Pat) McKelvey helped establish the Toni & Trish House in 2007. John has volunteered and worked at Mother Teresa House in Lansing. He has an Associate degree in Hospice and Grief Counseling from the Elisabeth Kubler-Ross Hospice training Institute in New Mexico.
John also has an Associate degree in Nursing and has been a Registered Nurse since 1995. John and his wife Deirdre have been married for eleven years.